An overview of Paragon Active Assurance¶
Paragon Active Assurance, formerly known as Netrounds, is a programmable, active test and service assurance platform for physical, hybrid and virtual networks. The automation capabilities of Paragon Active Assurance enable communication service providers to reduce manual efforts required for network testing and assurance, significantly decreasing operational costs and improving operating margins, as well as nearly eliminating capital expenditures associated with using traditional hardware test and measurement equipment.
The core component of Paragon Active Assurance is a unifying multi-tenant Control Center, which provides a user-friendly web GUI where operations staff can set up and run on-demand tests and continuous monitoring, as well as view both real-time and aggregated result metrics. Control Center is offered as a SaaS solution at https://app.netrounds.com, but it can also be deployed on-premise. Control Center has REST and NETCONF & YANG APIs which enable external OSS and NFV orchestrators to easily automate tests and monitoring. In the SaaS solution, the REST API browser is found at https://app.netrounds.com/rest.
Control Center remotely controls software-based, traffic-generating active Test Agents, whose capabilities include: measurement of network performance (UDP, TCP, Y.1731, TWAMP, Path trace, UDP loopback) and internet performance (HTTP, Ping, Speedtest), IPTV and OTT video, VoIP telephony and SIP, Wi-Fi, and remote packet inspection.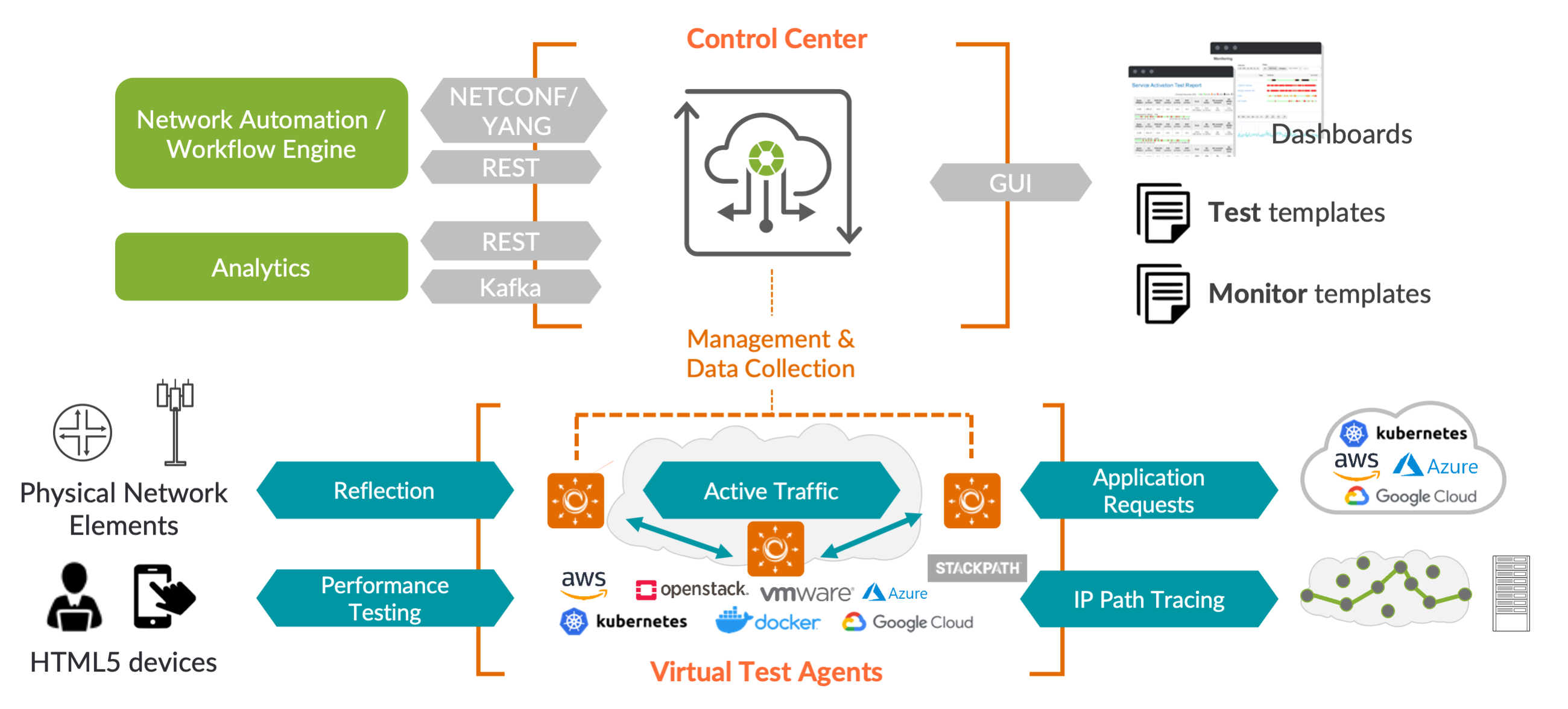 Test Agents may be placed in strategic locations across your network for continuous quality monitoring. They may also be installed on demand for more temporary purposes, such as activation testing of newly deployed services, or troubleshooting. Test Agents are available in a number of formats, and they are all remotely updated and maintained through Control Center.
The present documentation is the main support documentation for Paragon Active Assurance.
The status of the Paragon Active Assurance SaaS solution can be inspected at https://status.paa.juniper.net.